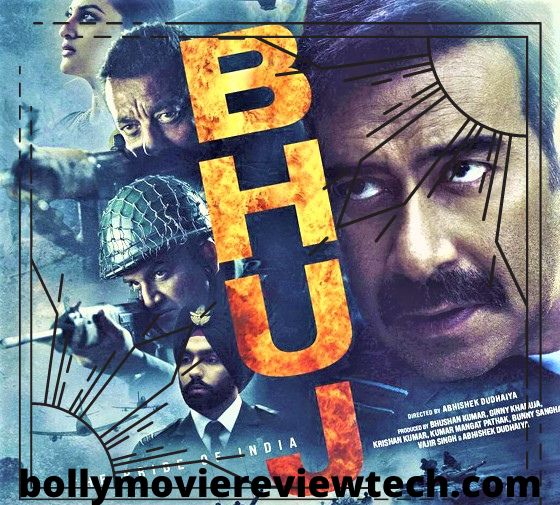 Directed By 

Abhishek
Dudhaiya

Written By

Abhishek Dudhaiya,
Raman Kumar
Ritesh Shah,
Pooja Bhavoria

Produced By

Bhushan Kumar
Ginny Khanuja

Starring  

Ajay
Devgn, Sanjay Dutt, Sharad Kelkar,  Sonakshi  Sinha, Ammy
Virk, Pranitah, Nora Fatehi

Cinematography 

Aseem Bajaj

Release Date  

13-Aug-21

Country 

 India

Language

Hindi
Bhuj: The Pride of India movie is greatly inspired by the Indo-Pakistan war of 1971. In this war, the Airstrip of Bhuj was destroyed by the enemy force. The brave officer of IAF Vikram Karnik (Squadron Leader) along with the help of 300 women of a nearby village (Madhapar) tries to restore the airstrip and they are successfully able to do that.
The Vikram Karnik role is played by Ajay Devgan in the movie. The Sonakshi Sinha played the role of Sunderban Jetha (Social worker) who helped a lot the armed forces despite all the odd conditions. The role Rnachordas Pagi is lead by Sanjay Dutt, whose efforts are said to save the lives of thousands.
The film presented beautifully the situation present at the time of war and the difficulties faced by the Indian Armed forces. This also highlights a great deal of cooperation Between armed forces and the common people of the nearby villages.
The music of the film was given by Gourov Dasgupta, Tanishk Bagchi, and Lijo George – Dj Chetas while lyrics fused by Devshi Khanduri, Vayu, and Manoj Muntashir. Basically, the song Zaalim Coca Cola is a remake of the song of the Zalim Coca Cola Peya De from the 1986 Punjabi film Chan Te Soorma sung by Noor Jehan, composed Taafu and written by Khawaja Pervez.
Earlier this film was supposed to release worldwide on the Independence Day weekend of 2020, but due to Covid situation in The country the film was postponed and now the producer decided to release an online stream session on the Disney+Hotstar platform on 13 August 2021.
भुज: द प्राइड ऑफ इंडिया फिल्म 1971 के भारत-पाकिस्तान युद्ध से बहुत प्रेरित है। इस युद्ध में, भुज की हवाई पट्टी को दुश्मन सेना ने नष्ट कर दिया था। IAF के बहादुर अधिकारी विक्रम कार्णिक (स्क्वाड्रन लीडर) ने पास के एक गाँव (माधापार) की 300 महिलाओं की मदद से हवाई पट्टी को बहाल करने की कोशिश की और वे सफलतापूर्वक ऐसा करने में सक्षम हैं।
फिल्म में अजय देवगन ने विक्रम कार्णिक की भूमिका निभाई है। सोनाक्षी सिन्हा ने सुंदरबन जेठा (सामाजिक कार्यकर्ता) की भूमिका निभाई, जिन्होंने सभी विषम परिस्थितियों के बावजूद सशस्त्र बलों की बहुत मदद की। भूमिका रणछोड़दास पागी का नेतृत्व संजय दत्त कर रहे हैं, जिनके प्रयासों के बारे में कहा जाता है कि उन्होंने हजारों लोगों की जान बचाई।
फिल्म युद्ध के समय मौजूद स्थिति और भारतीय सशस्त्र बलों के सामने आने वाली कठिनाइयों को खूबसूरती से प्रस्तुत करती है। यह सशस्त्र बलों और आस-पास के गांवों के आम लोगों के बीच बहुत अधिक सहयोग को भी उजागर करता है।
फिल्म का संगीत गौरव दासगुप्ता, तनिष्क बागची, और लिजो जॉर्ज – डीजे चेतस द्वारा दिया गया था, जबकि गीत देवशी खंडूरी, वायु और मनोज मुंतशिर द्वारा तैयार किए गए थे। मूल रूप से, ज़ालिम कोका कोला गीत 1986 की पंजाबी फ़िल्म चान ते सूरमा के ज़ालिम कोका कोला दे के गीत का रीमेक है, जिसे नूरजहाँ ने गाया था, ताफ़ू को संगीतबद्ध किया और ख्वाजा परवेज द्वारा लिखा गया।
पहले यह फिल्म 2020 के स्वतंत्रता दिवस सप्ताहांत पर दुनिया भर में रिलीज होने वाली थी, लेकिन देश में कोविड की स्थिति के कारण फिल्म को स्थगित कर दिया गया और अब निर्माता ने 13 अगस्त 2021 को डिज्नी + हॉटस्टार प्लेटफॉर्म पर एक ऑनलाइन स्ट्रीम सत्र जारी करने का फैसला किया। .