Karthikey2 movie review
Movie: Karthikeya 2
Rating: 3.5/5
Production: Abhishek Agarwal Arts & People Media Factory,
Lead Actor/ Actress: Nikhil Siddartha, Anupama Parameswaran, KS Sridhar, Anupam Kher, Aditya Menon, Srinivas Reddy, Satya, Praveen, Harsha Chemudu, and others
Music: Kaala Bhaiarava
DOP: Karthik Ghattamaneni
Production Designer: Saahi Suresh
Producers: TG Vishwa Prasad, Abhishek Agarwal
Director and Writer : Chandoo Mondeti
Release Date: Aug 13, 2022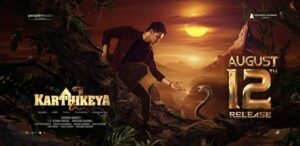 Kartikeya, a Role played by Nikhil Siddhartha, a doctor, was suspended from the hospital after he beat up the mayor for performing a "Yagya" in the hospital ICU. His mother takes him to Dwarka in Gujarat for Mokku.
In Dwarka city, an archaeologist taking his last breath informs Kartikeya that he is the savior and has been chosen to finalize the mission. If we consider Nikhil acting it is suitable as role demand, he performs it nicely. Anupama Parameswaran is Nikhil's partner like Srinivas Reddy and Harsh Chemudu. However, she gets him because of a scene or two. Aditya Menon's role lacks clarity. Anupam Kher appears as a blind professor and leaves an impact in the last moments.
"Karthikeya 2", however, focuses on transforming Kartik from an unbeliever to a believer. It is slated to appeal to a largely pan-India audience, particularly the Hindi audience, and incorporates a high dose of Hindu mythology and religion. Lately, Hindi audiences are adopting films glorifying our culture, Hinduism, and our great history.
"Karthikeya 2" is a calculated effort. However, director Chandu Mondeti has a story that is based on historical and mythological references, with ample scope for drama and suspense. The film follows in the same vein as Steven Spielberg's Indiana Jones series, with elements of "The Da Vinci Code".
The production, music, and cinematography have to be top-class for a thriller like this but Director Chandu Mondeti fails to extract the right output from the music department. None of the scenes were elevated with Kaal Bhairav's background score which may have given the audience goosebumps.